Dental Treatment Plans - Fixed Bridge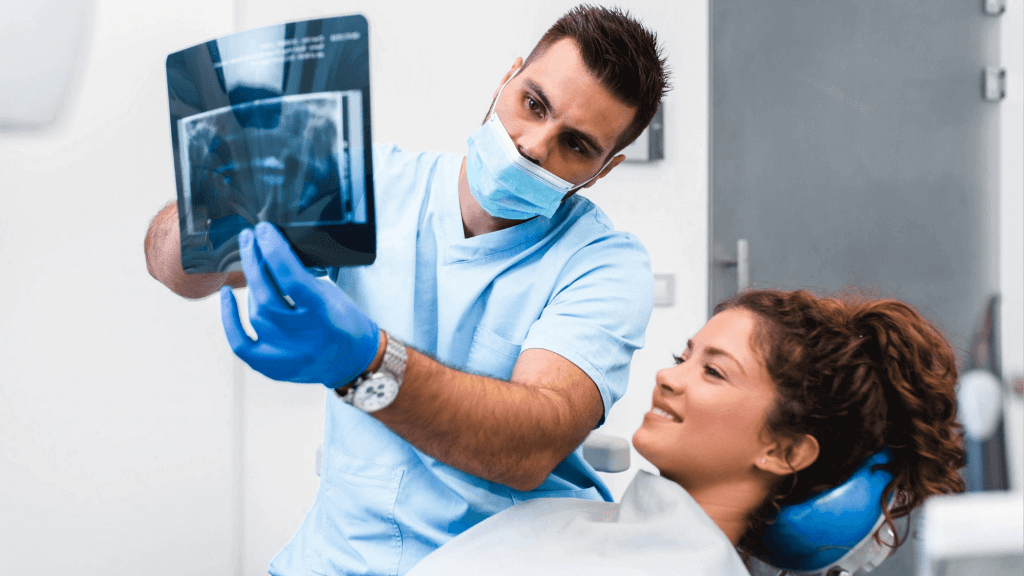 The Tooth-Supported Fixed Bridge Dental Treatment Plan
Tooth-Supported Fixed Bridge – is an alternative to dental implants, and is used for repairing a single missing tooth. It's a prosthetic tooth that's fused to two flanking anchor crowns. The anchor crowns are cemented and secured to healthy teeth which hold the prosthetic tooth in place, filling in the gap from the tooth loss. The procedure we use for the Fixed Bridge is dependent on the patient's oral health, specifically, the flanking teeth on each side where the tooth used to be. If the flanking teeth are healthy enough, we will use the crown method. To use this procedure, we first grind the healthy teeth down into what are known as Abutment teeth. The teeth act as an anchor point for the crowns, and the crowns are attached to the Abutment Teeth with dental grade cement, securing the bridge in place and acting just like an actual bridge.
Whether the adjacent teeth are the patient's actual teeth or dental implants will determine the procedure that takes place. In either situation, a Fixed Bridge can be performed. A Fixed Bridge is designed to restore the missing tooth, sometimes at the cost of grinding down the two healthy flanking teeth. The bridge longevity and overall lifespan will vary depending on the dental products you opt to use for the procedure. It's safe to say that your Fixed Bridge will usually last 5 – 10 years before needing to be replaced. The higher-end dental products are almost always the smarter choice, especially when your teeth functionality and aesthetics are concerned.
The Implant-Supported Fixed Bridge
The Implant-Supported Fixed Bridge is a similar concept. The only difference is that the two adjacent support-teeth are dental implants. We use the Implant-Supported Bridge implementation when both the teeth on each side of the missing tooth are unable to be ground down and crowned. In this case, we will use the Implant-Supported Fixed Bridge method instead of the Tooth-Supported Bridge procedure.
It's up to Dr. Martz to recommend a proper dental treatment plan. He will deduce the dental treatment plan options after a thorough examination of your teeth is performed.